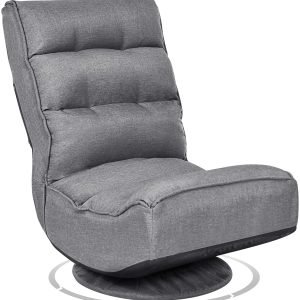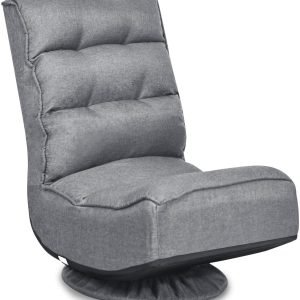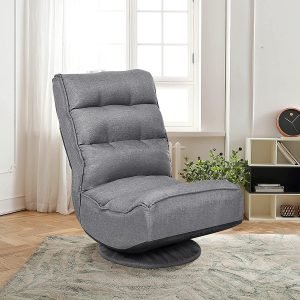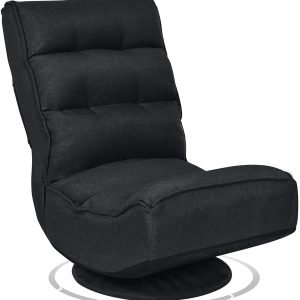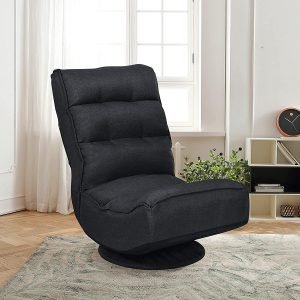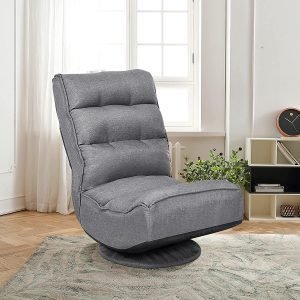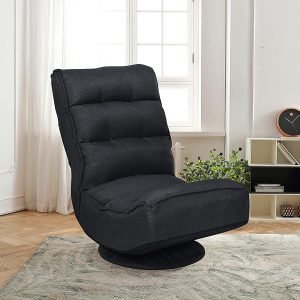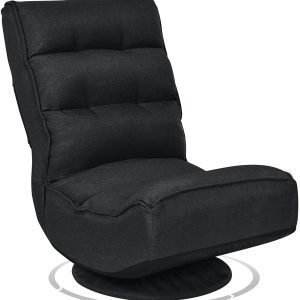 -56% Off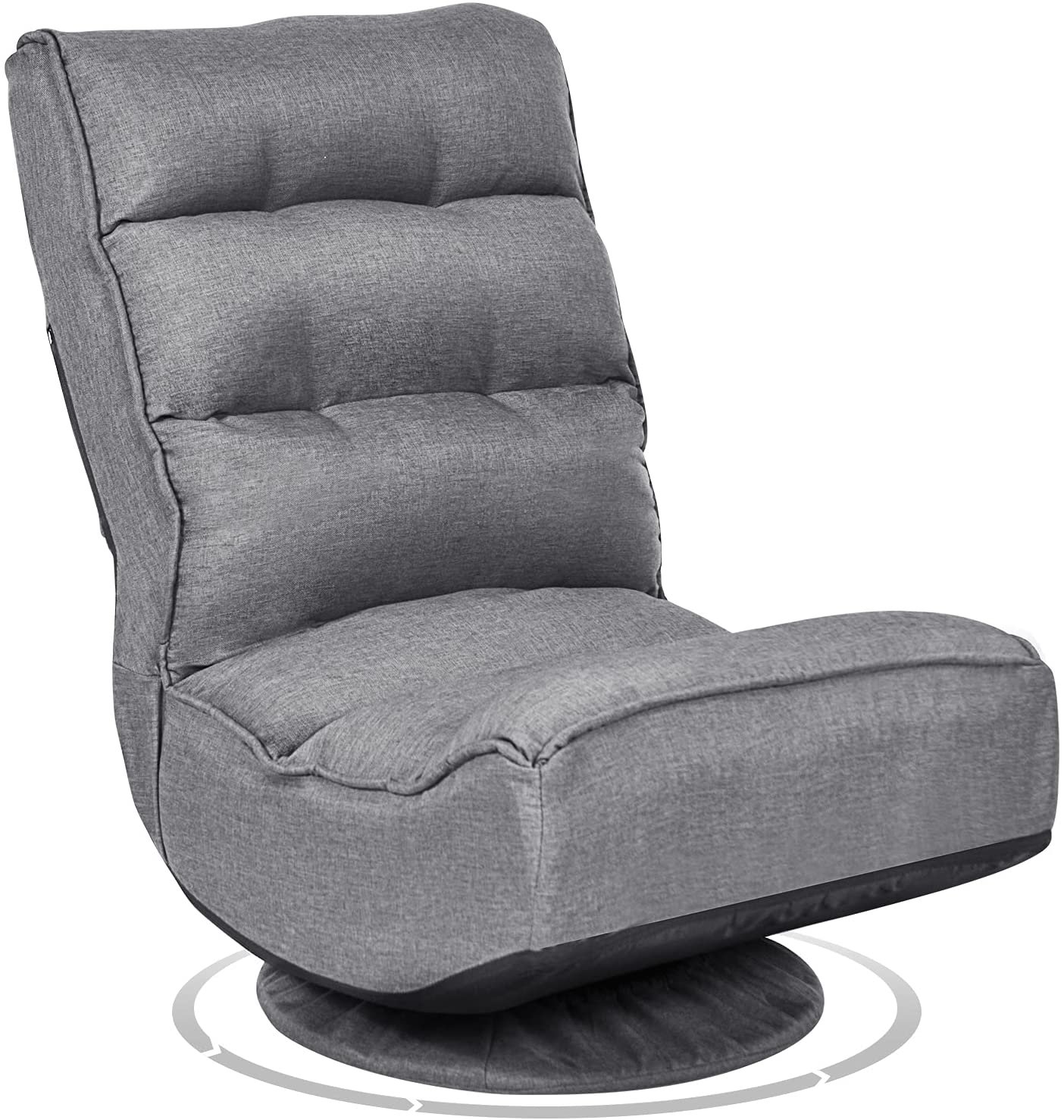 Casart Folding 4-Position Adjustable Floor Lazy Sofa Chair 360 Degree Swivel Game Chair
$305.64
Appearance:

Modern Style

Specific Use: 

Living Room Chair

Type: 

Living Room Furniture

General Use: 

Home Furniture
4 Positions Adjustable Backrest- You can find you most comfortable position by adjust the backrest in 4 different angles. It is easy to adjust and fits your body perfectly.

360 Degrees Rotation- This chair can be rotate in 360 degrees to make your life easy.. It brings convenience to your work or game or leisure time, Just rotate the chair as you want it.

Fully Foldable and Easy for Storage-The backrest can be folded in a very space saving position. If you don't need to use it, just fold it for easy storage. It helps you save much space.

Easily Removable Base Cover and Breathable Fabric- The base can be removed easily if you need to clean the base. This user-friendly design save the hassle for you to clean a huge chair and just remove the base cover. The whole chair is made of superior linen fabric, which is very durable , not easy to tear easily and of great texture.

Solid Construction and Thick Padding Chair- The chair is made of high quality steel and it ensures the sturdiness and durability of the chair. The whole chair has thick padding for comfortably seating space and back support. It helps you relax your body.
Compare
Add to wishlist
Only logged in customers who have purchased this product may leave a review.
Quick Comparison
Settings
Casart Folding 4-Position Adjustable Floor Lazy Sofa Chair 360 Degree Swivel Game Chair

remove

Gray Fabric Sofa Camarote Plegable Moderno Furniture Living Room Moore Tufted Futon Sofa Bed

remove

Two-Seat Couch For Living Room Bedroom Office Furniture Classical Velvet Sofa, Loveseat with Iron legs

remove

Fabric Storage Footrest Deep Button Tufted Exterior Design 63" Bed Stool Multifunctional Bench With Storage Box

remove

Wooden Frame, Sturdy and Durable, Mustard Contemporary Style Armchair with Rubberwood Legs and Nailhead Trim for Living Room

remove

Removable Cushion, Solid Wood Frame, Sturdy and Durable, Orange Mid Century Accent Chair with Tapered Wood Legs for Living Room

remove

Name
Casart Folding 4-Position Adjustable Floor Lazy Sofa Chair 360 Degree Swivel Game Chair

remove

Gray Fabric Sofa Camarote Plegable Moderno Furniture Living Room Moore Tufted Futon Sofa Bed

remove

Two-Seat Couch For Living Room Bedroom Office Furniture Classical Velvet Sofa, Loveseat with Iron legs

remove

Fabric Storage Footrest Deep Button Tufted Exterior Design 63" Bed Stool Multifunctional Bench With Storage Box

remove

Wooden Frame, Sturdy and Durable, Mustard Contemporary Style Armchair with Rubberwood Legs and Nailhead Trim for Living Room

remove

Removable Cushion, Solid Wood Frame, Sturdy and Durable, Orange Mid Century Accent Chair with Tapered Wood Legs for Living Room

remove

Image
SKU
3256804731290868
3256804896363954
3256803137118464
3256804605475371
3256804854912226
3256804869913284
Rating
Price

$

305.64

$

495.18

$

918.00

$

993.96

$

635.38

$

1,813.50
Stock

60 in stock

4 in stock

14 in stock

25 in stock

20 in stock

20 in stock

Availability
60 in stock
4 in stock
14 in stock
25 in stock
20 in stock
20 in stock
Add to cart
Description

Appearance:

Modern Style

Specific Use: 

Living Room Chair

Type: 

Living Room Furniture

General Use: 

Home Furniture

 

4 Positions Adjustable Backrest- You can find you most comfortable position by adjust the backrest in 4 different angles. It is easy to adjust and fits your body perfectly.

360 Degrees Rotation- This chair can be rotate in 360 degrees to make your life easy.. It brings convenience to your work or game or leisure time, Just rotate the chair as you want it.

Fully Foldable and Easy for Storage-The backrest can be folded in a very space saving position. If you don't need to use it, just fold it for easy storage. It helps you save much space.

Easily Removable Base Cover and Breathable Fabric- The base can be removed easily if you need to clean the base. This user-friendly design save the hassle for you to clean a huge chair and just remove the base cover. The whole chair is made of superior linen fabric, which is very durable , not easy to tear easily and of great texture.

Solid Construction and Thick Padding Chair- The chair is made of high quality steel and it ensures the sturdiness and durability of the chair. The whole chair has thick padding for comfortably seating space and back support. It helps you relax your body.

When versatility is the rule, the Serta Moore Tufted Futon upholstered in Charcoal Gray Fabric is happy to abide whether at home or office. Made for the high traffic areas, this armless futon is the perfect combo of modern functionality and forward style. Constructed of hardwood frame, plastic legs, and high-quality fabric, it smoothly and safely transforms from sofa to sleeper. The Moore's robust frame is topped with high density foam and Charcoal upholstery fabric with self-piping details adding sophistication while keeping clean lines. The Moore pairs classic and modern in streamlined style. Featuring high density foam and sleek plastic legs and self-pipping tufting, this sofa effortlessly converts quickly to a sleeper. Surprise your guests and re-define comfort with the Moore.

Serta Moore Tufted Futon, Charcoal Gray Fabric:

Modern futon features a futon, lounger, and sleeper
Upholstered in quality polyester fabric
Wood frame and black plastic legs
Item size 66.9"L x 33.1"W x 29.1"H; 52.8 lbs.
Sleeper size: 38"L x 66.1"W x 15.4"H
Weight limit 400 lbs.
Ships in one carton: 67.3"L x 38.6"W x 7.3"H; 59.4 lbs.
Seat cushion thickness 7.1"
Back cushion thickness 5.1"
Seat height 15.4"
Seat 66.1"W x 19.8"D
Self-Piping all around the seat and backrest
Tufting with button
Thick foam 1.5" with polyester wrapped around
Sinuous spring on seat and backrest

Sofa Width: 2000mm~2400mm
Fabric: Velvet
With Storage: No
Style: Neoclassical
Place Of Origin: China
Appearance: Classical,Modern Style,Scandinavia
Material: Velvet
Origin: Mainland China
CN: Guangdong
Specific Use: Living Room Sofa
General Use: Home Furniture
Type: Living Room Furniture
Seat Fill Material: Foam
Weight Capacity: 700LB
Frame Material: Plywood

Classical Velvet Sofa, Loveseat with Iron legs, Two-Seat Couch For Living Room Bedroom Office Furniture





 

Weights & Dimensions&Description

| | |
| --- | --- |
| Overall | 55.91" W x28.35'' D X34.25"H |
| Packing : | 50.79" X25.59" X 11.22" |
| Back Height - Seat to Top of Back | 16.54'' |
| Leg Height | 9.84'' |
| Arm Height | 27.16" |
| Seat Height | 19.69" |
| Seat Depth | 19.68" |
| Seat Width | 50" |
| Net weight | 61.71" |
| Gross Weight | 71.63LB |
| Feet material | IRON |
| Color | Rose Golden |
| Upholstery Material | Velvet |
| Product Type | sofa |
| Frame Material | Plywood |
| Seat Fill Material | Foam |
| Weight Capacity | 700LB |
| Assembly Required: | YES |

 

Get a modern look that adds comfort and style to your home with the kent sofa set, European style with a sleek design will inspire a fresh look and bring comfort to your living space. tapered legs and velvet fabric upholstery of this seating collection create a stylish look that embraces vintage flair and modern living. Complete your living room decor with these chic seating options

Style: Minimalist Modern
Pattern: none
Folded: No
Appearance: Modern Style
Specific Use: Home Stool & Ottoman
Type: Living Room Furniture
General Use: Home Furniture

MULTIFUNCTIONAL: The Bench has large storage compartment. Place this storage chest in the bedroom as a bed end bench, in front of the sofa in the living room as a footrest, or in the hallway as a shoe bench.

EASY ASSEMBLY: Save Times, Not a single screw! The arms and the legs required customers to assembly. Plug in style hardware on the arms makes it super easy to put it together.   

CONTEMPORARY DESIGN:Featuring deep button tufting and beautifully rolled arms, our storage ottoman offers the look, feel, and design of a truly contemporary piece. With a minimalistic yet refined structure, this piece brings out a simplistic style that emphasizes comfort and functionality.

ROLLED ARMS: To complete the refined contemporary look, this ottoman bench features elegantly rolled arms for a luxurious look. This adds an air of sophistication to your room and compliments the tufted diamond stitched lid.

IDEAL FOR SMALL SPACES: Choose an accessory that is the perfect size for you and your furniture. The size of this bench is 63"L x 22"W x 24.4"H. You will love how much your space can transform with the simple addition of this charming ottoman bench.

 

Product Specification

| | |
| --- | --- |
| Product Type | Bed Bench |
| Overall Dimension | L63"x W22" x H24.4" |
| Seat Height | 18.5" |
| Seat Width | 48.8" |
| Seat Depth | 22" |
| Arm Height | 24.4" |
| Leg Height | 5.9" |
| Overall Product Weight | 60.5lbs |
| Upholstery Material | 100% Polyester |
| Seat Cushion Fill Material | Foam+Polyester |
| Frame Material | Solid Wood+Plywood+Metal |
| Wood species | Eucalyptus |
| Leg Material | Solid Wood(Rubber wood) |
| Leg Color | Brown |
| Seat Construction | Sinuous Springs |
| Foam Density | 1.9lbs./cu.ft. |
| Toss Pillows | No |
| Removable Cushion Cover | No |
| Reversible Cushions | No |
| Storage | Yes |
| Weight Capacity | 500lbs |
| Product Care | Wipe with fabric cleaner |

Cover: 

Fabric

Set Type: 

NO

With Handrails: 

YES

Style: 

Minimalist Modern

Folded: 

No

Appearance: 

Modern Style

Material: 

Fabric

Style: 

Leisure Chair

Origin: 

Mainland China

Specific Use: 

Living Room Chair

Type: 

Living Room Furniture

General Use: 

Home Furniture

Main Color: 

Mustard

Main Material: 

Wood

Filler: 

Foam

Assembled Length (in.): 

28.50

Assembled Width (in.): 

32.00

Assembled Height (in.): 

34.00

Weight (lbs): 

39.68

Looking to add an arm chair to your living room or bedroom? This one is in keeping with your glam sensibilities, adding an eye-catching touch to your space. Designed in classic and contemporary style with glam nailhead trim and button-dotting backrest, this accent chair is full of aesthetics, looked attractive in vision. Founded atop four elaborately carved rubberwood legs and wrapped with premium velvet fabric, comfortable for skin touch, it also arrives with a s-spring built-in seatrest for perfect support, ensuring a long term seating. Medium-density foam filled brings cosy experience while a solid and manufactured wood frame provides sturdy structure. This timeless fashion piece will not fail to blend with your home decor with its rich color selections. At any time, this chair provides an essential spot for sitting and enjoying a good book or catching up on your favorite show, effectively reliving the pressure. It's the perfect pick for the living room, office room and bedroom.

Product Including: One accent armchair, assembly required. Weight Capacity:220LBS

Contemporary and Classic Style: This living room upholstered accent chair offers outstanding comfort and is suitable for all kinds of living room decoration.

Material: Medium-density foam filling with comfortable velvet fabric upholstery, it also features a built-in s-spring seat for comfort.

Strong and Durable: Founded atop a sturdy solid and manufactured wooden frame, the entire chair is very stable.

Design: This streamlined accent chair with stylish nailhead trim and tufted design is suitable for the living room, office, bedroom and other scenes.

Cover: Fabric
Set Type: NO
With Handrails: YES
Style: Minimalist Modern
Folded: No
Appearance: Modern Style
Material: Wooden
Style: Leisure Chair
Origin: Mainland China
Specific Use: Living Room Chair
Type: Living Room Furniture
General Use: Home Furniture
Main Color: Orange
Main Material: Wood
Assembled Length (in.): 30.00
Assembled Width (in.): 34.50
Assembled Height (in.): 34.00
Weight (lbs): 39.03

 

Color

Burnt Orange

Long Descriptions

Featuring mid-century inspired curves, this chair is upholstered in a soft burnt orange fabric that adds a light contrast to the room decor. The frame is composed from select hardwoods and plywood and is elevated on smooth tapered wooden legs in espresso finish. Removable cushion, not reversible. Leg assembly required.

Product Details

1 Chair:30"W x 34.5"D x 34"H
Seat:21.5"W x 22"D x 20"H
Distance between two arms:21.5"
Weight Capacity:250lbs
Back Height (from Top to the Seat):14

Features

• Mid-century inspired
• Tight back upholstery
• Removable cushion
• Solid wood legs
• Leg assembly required, tools included

Material

Frame Composition: Select Hardwoods and Plywood
Legs/Finish: Rubber Wood Legs with Espresso Finish
Fabric Composition: 100% Polyester
Cushion: High Density Foam
Additional Features: Tight Back, Loose Seat

Content

Appearance:

Modern Style

Specific Use: 

Living Room Chair

Type: 

Living Room Furniture

General Use: 

Home Furniture

 

4 Positions Adjustable Backrest- You can find you most comfortable position by adjust the backrest in 4 different angles. It is easy to adjust and fits your body perfectly.

360 Degrees Rotation- This chair can be rotate in 360 degrees to make your life easy.. It brings convenience to your work or game or leisure time, Just rotate the chair as you want it.

Fully Foldable and Easy for Storage-The backrest can be folded in a very space saving position. If you don't need to use it, just fold it for easy storage. It helps you save much space.

Easily Removable Base Cover and Breathable Fabric- The base can be removed easily if you need to clean the base. This user-friendly design save the hassle for you to clean a huge chair and just remove the base cover. The whole chair is made of superior linen fabric, which is very durable , not easy to tear easily and of great texture.

Solid Construction and Thick Padding Chair- The chair is made of high quality steel and it ensures the sturdiness and durability of the chair. The whole chair has thick padding for comfortably seating space and back support. It helps you relax your body.

 

 

Sofa Width: 

2000mm~2400mm

Fabric: 

Composite Fabrics

Appearance: 

Modern Style,Scandinavia,Modern Morocco

Brand Name: 

BOUSSAC

Origin: 

Mainland China

CN: 

Fujian

Specific Use: 

Living Room Sofa

General Use: 

Home Furniture

Type: 

Living Room Furniture


When versatility is the rule, the Serta Moore Tufted Futon upholstered in Charcoal Gray Fabric is happy to abide whether at home or office. Made for the high traffic areas, this armless futon is the perfect combo of modern functionality and forward style. Constructed of hardwood frame, plastic legs, and high-quality fabric, it smoothly and safely transforms from sofa to sleeper. The Moore's robust frame is topped with high density foam and Charcoal upholstery fabric with self-piping details adding sophistication while keeping clean lines. The Moore pairs classic and modern in streamlined style. Featuring high density foam and sleek plastic legs and self-pipping tufting, this sofa effortlessly converts quickly to a sleeper. Surprise your guests and re-define comfort with the Moore.

Serta Moore Tufted Futon, Charcoal Gray Fabric:

Modern futon features a futon, lounger, and sleeper
Upholstered in quality polyester fabric
Wood frame and black plastic legs
Item size 66.9"L x 33.1"W x 29.1"H; 52.8 lbs.
Sleeper size: 38"L x 66.1"W x 15.4"H
Weight limit 400 lbs.
Ships in one carton: 67.3"L x 38.6"W x 7.3"H; 59.4 lbs.
Seat cushion thickness 7.1"
Back cushion thickness 5.1"
Seat height 15.4"
Seat 66.1"W x 19.8"D
Self-Piping all around the seat and backrest
Tufting with button
Thick foam 1.5" with polyester wrapped around
Sinuous spring on seat and backrest

Sofa Width:

2000mm~2400mm

Fabric:

Velvet

With Storage:

No

Style:

Neoclassical

Place Of Origin:

China

Appearance:

Classical,Modern Style,Scandinavia

Material:

Velvet

Origin:

Mainland China

CN:

Guangdong

Specific Use:

Living Room Sofa

General Use:

Home Furniture

Type:

Living Room Furniture

Seat Fill Material:

Foam

Weight Capacity:

700LB

Frame Material:

Plywood

Classical Velvet Sofa, Loveseat with Iron legs, Two-Seat Couch For Living Room Bedroom Office Furniture





Weights & Dimensions&Description

| | |
| --- | --- |
| Overall | 55.91" W x28.35'' D X34.25"H |
| Packing : | 50.79" X25.59" X 11.22" |
| Back Height - Seat to Top of Back | 16.54'' |
| Leg Height | 9.84'' |
| Arm Height | 27.16" |
| Seat Height | 19.69" |
| Seat Depth | 19.68" |
| Seat Width | 50" |
| Net weight | 61.71" |
| Gross Weight | 71.63LB |
| Feet material | IRON |
| Color | Rose Golden |
| Upholstery Material | Velvet |
| Product Type | sofa |
| Frame Material | Plywood |
| Seat Fill Material | Foam |
| Weight Capacity | 700LB |
| Assembly Required: | YES |




Get a modern look that adds comfort and style to your home with the kent sofa set, European style with a sleek design will inspire a fresh look and bring comfort to your living space. tapered legs and velvet fabric upholstery of this seating collection create a stylish look that embraces vintage flair and modern living. Complete your living room decor with these chic seating options.







 

Style: 

Minimalist Modern

Place Of Origin: 

china

Pattern: 

none

Folded: 

No

Appearance: 

Modern Style

Origin: 

Mainland China

Specific Use: 

Home Stool & Ottoman

Type: 

Living Room Furniture

General Use: 

Home Furniture

MULTIFUNCTIONAL: The Bench has large storage compartment. Place this storage chest in the bedroom as a bed end bench, in front of the sofa in the living room as a footrest, or in the hallway as a shoe bench.

EASY ASSEMBLY: Save Times, Not a single screw! The arms and the legs requaired customers to assembly. Plug in style hardware on the arms makes it super easy to put it togather.   

CONTEMPORARY DESIGN:Featuring deep button tufting and beautifully rolled arms, our storage ottoman offers the look, feel, and design of a truly contemporary piece. With a minimalistic yet refined structure, this piece brings out a simplistic style that emphasizes comfort and functionality.

ROLLED ARMS: To complete the refined contemporary look, this ottoman bench features elegantly rolled arms for a luxurious look. This adds an air of sophistication to your room and compliments the tufted diamond stitched lid.

IDEAL FOR SMALL SPACES: Choose an accessory that is the perfect size for you and your furniture. The size of this bench is 63"L x 22"W x 24.4"H. You will love how much your space can transform with the simple addition of this charming ottoman bench.

 

Product Specification

| | |
| --- | --- |
| Product Type | Bed Bench |
| Overall Dimension | L63"x W22" x H24.4" |
| Seat Height | 18.5" |
| Seat Width | 48.8" |
| Seat Depth | 22" |
| Arm Height | 24.4" |
| Leg Height | 5.9" |
| Overall Product Weight | 60.5lbs |
| Upholstery Material | 100% Polyester |
| Seat Cushion Fill Material | Foam+Polyester |
| Frame Material | Solid Wood+Plywood+Metal |
| Wood species | Eucalyptus |
| Leg Material | Solid Wood(Rubber wood) |
| Leg Color | Brown |
| Seat Construction | Sinuous Springs |
| Foam Density | 1.9lbs./cu.ft. |
| Toss Pillows | No |
| Removable Cushion Cover | No |
| Reversible Cushions | No |
| Storage | Yes |
| Weight Capacity | 500lbs |
| Product Care | Wipe with fabric cleaner |

Cover:

Fabric

Set Type:

NO

With Handrails:

YES

Style:

Minimalist Modern

Folded:

No

Appearance:

Modern Style

Material:

Fabric

Style:

Leisure Chair

Origin:

Mainland China

Specific Use:

Living Room Chair

Type:

Living Room Furniture

General Use:

Home Furniture

Main Color:

Mustard

Main Material:

Wood

Filler:

Foam

Assembled Length (in.):

28.50

Assembled Width (in.):

32.00

Assembled Height (in.):

34.00

Weight (lbs):

39.68

Looking to add an arm chair to your living room or bedroom? This one is in keeping with your glam sensibilities, adding an eye-catching touch to your space. Designed in classic and contemporary style with glam nailhead trim and button-dotting backrest, this accent chair is full of aesthetics, looked attractive in vision. Founded atop four elaborately carved rubberwood legs and wrapped with premium velvet fabric, comfortable for skin touch, it also arrives with a s-spring built-in seatrest for perfect support, ensuring a long term seating. Medium-density foam filled brings cosy experience while a solid and manufactured wood frame provides sturdy structure. This timeless fashion piece will not fail to blend with your home decor with its rich color selections. At any time, this chair provides an essential spot for sitting and enjoying a good book or catching up on your favorite show, effectively reliving the pressure. It's the perfect pick for the living room, office room and bedroom.

Product Including: One accent armchair, assembly required. Weight Capacity:220LBS

Contemporary and Classic Style: This living room upholstered accent chair offers outstanding comfort and is suitable for all kinds of living room decoration.

Material: Medium-density foam filling with comfortable velvet fabric upholstery, it also features a built-in s-spring seat for comfort.

Strong and Durable: Founded atop a sturdy solid and manufactured wooden frame, the entire chair is very stable.

Design: This streamlined accent chair with stylish nailhead trim and tufted design is suitable for the living room, office, bedroom and other scenes.


 

Cover: 

Fabric

Set Type: 

NO

With Handrails: 

YES

Style: 

Minimalist Modern

Folded: 

No

Appearance: 

Modern Style

Material: 

Wooden

Style: 

Leisure Chair

Origin: 

Mainland China

Specific Use: 

Living Room Chair

Type: 

Living Room Furniture

General Use: 

Home Furniture

Main Color: 

Orange

Main Material: 

Wood

Assembled Length (in.): 

30.00

Assembled Width (in.): 

34.50

Assembled Height (in.): 

34.00

Weight (lbs): 

39.03

 

Color

Burnt Orange

Long Descriptions

Featuring mid-century inspired curves, this chair is upholstered in a soft burnt orange fabric that adds a light contrast to the room decor. The frame is composed from select hardwoods and plywood and is elevated on smooth tapered wooden legs in espresso finish. Removable cushion, not reversible. Leg assembly required.

Product Details

1 Chair:30"W x 34.5"D x 34"H
Seat:21.5"W x 22"D x 20"H
Distance between two arms:21.5"
Weight Capacity:250lbs
Back Height (from Top to the Seat):14

Features

• Mid-century inspired
• Tight back upholstery
• Removable cushion
• Solid wood legs
• Leg assembly required, tools included

Material

Frame Composition: Select Hardwoods and Plywood
Legs/Finish: Rubber Wood Legs with Espresso Finish
Fabric Composition: 100% Polyester
Cushion: High Density Foam
Additional Features: Tight Back, Loose Seat

Weight
N/A
N/A
N/A
N/A
N/A
N/A
Dimensions
N/A
N/A
N/A
N/A
N/A
N/A